Contact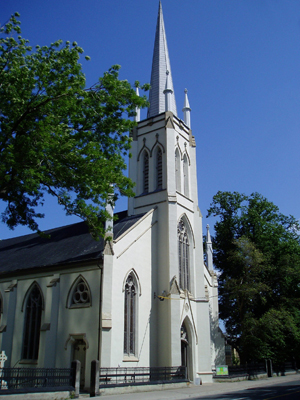 St. Matthew's United Church of Canada
1479 Barrington Street
Halifax, Nova Scotia, B3J 1Z2
Tel: (902) 423-9209
Fax: (902) 423-2833
E-mail: stmatts@ns.sympatico.ca
St. Matthew's is located at the corner of Barrington St. and Spring Garden Rd. in downtown Halifax. Parking is available on Barrington Street and side streets, but is somewhat limited.
Below is a map locating paid parking lots in our immediate vicinity. Street parking is free evenings and weekends.
---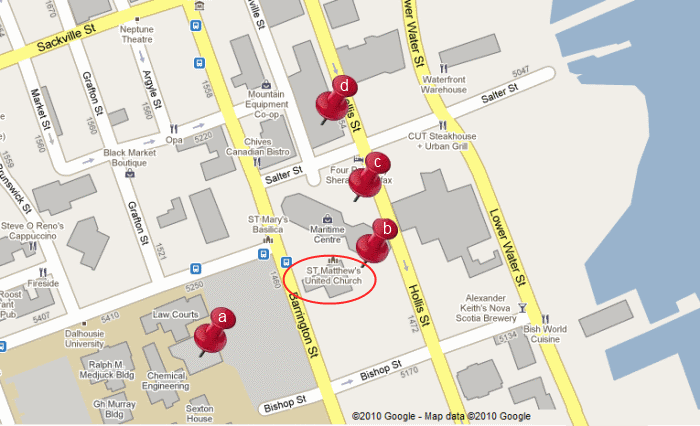 A - Rear of Courthouse off of Spring Garden Road, opposite Grafton Street: Evenings and weekends $3. Weekdays $1.50 per hour, $7 maximum.
B - Commissionaire's Lot behind Church off Hollis St. near Salter St.: A few free spaces on Sunday morning only. Wooden steps to back entrance of Church.
C - Four Seasons Sheraton Parking off Hollis St. near Salter St.: $1.25 per half hour anytime and day. $12 Maximum. Evenings and weekends pay at hotel front desk.
D - Metro Park off Granville St. Opposite Blowers St.: $1.25 first half hour, $2 each subsequent hour anytime any day. $12.75 maximum weekdays, $5.75 maximum evenings and weekends. Automated.