Marriage Policy
GETTING MARRIED at St. Matthew's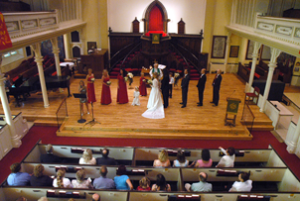 At St. Matthew's, we see people as unique, loved creations of God. We also see relationships as living things that require preparation and nurture. As a congregation of the United Church of Canada, our ministers celebrate marriage in the context of a Christian community of faith, and our community is broad and accepting.
We are open to celebrating the marriage of:
regular church-goers and those who rarely attend,
previously divorced people,
couples of different religions,
couples of different genders,
and couples of the same gender.
We believe God intends loving relationships to be faithful, responsible, just, healing, and sustaining of the couple and those around them. We rejoice in the celebration of these relationships in marriage!
IF YOU WOULD LIKE TO BE MARRIED AT ST. MATTHEW'S…
Marriage Preparation Course
Our ministers participate in leading a Marriage Preparation Weekend (Friday night and Saturday all day) together with the clergy of other churches in our area. If you are not able to attend this course, a comparable course offered in another location will suffice, with certificate of completion.
Book a Date
You must call the Church Office (902-423-9209) and tentatively book your chosen date. The Church Administrator will make this tentative booking on our calendar and send you a packet of information, including information about the Marriage Preparation Course, and a fee schedule for your wedding service.
Contact the Minister
You must then initiate contact (phone or email) with the minister. Your booking is not confirmed until you have been in contact with the minister. She will assist you in planning your service.
Contact the Minister of Music
You must then initiate contact (phone or email) with the Minister of Music. He will assist you in planning appropriate music for your service.