United Church of Canada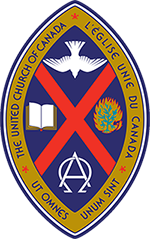 St. Matthew's is a congregation of The United Church of Canada, a protestant denomination formed in 1925 by the union of the Presbyterian, Methodist, and Congregationalist Churches of Canada, with the addition in 1930 of the Wesleyan Methodist Church of Bermuda, and the Evangelical United Brethren in 1968.
St. Matthew's is a congregation of…
The United Church of Canada cherishes:
independence of thought,
openness to God's Spirit at work in the world,
and commitment to peace and justice for all.
The United Church is a non-creedal church:
We are not bound together by strict adherence to one particular set of beliefs,
but by love for God and neighbour, a vision of wholeness and peace in God's creation,
and a shared commitment to the way of Jesus Christ, in whom God is made known to us.
A Few Basics
The Bible
The Bible is our central source of wisdom, personal prayer, and devotion as a community, and it is through the Bible that we deepen our understanding of God's work of creation and liberation in the world, and experience the healing and hope of new life in Jesus.
We recognize the Bible as having been inspired by God, but also as the witness and story of ancient communities struggling to be faithful in contexts that are different from our own. Biblical scholarship enables us to lift "God's Word" – the message for today's world – out of "the words".
Baptism
Baptism is a symbolic action using water that signifies the new life God gives us as we join the church community. The United Church offers baptism to all ages, believing that the gift of God's love doesn't depend on our ability to understand it. Baptism is not a prerequisite for God's love, but simply a ritual marking commitment to life in Christian community. We do NOT believe that people who die without baptism are condemned, lost, or damned.
Inclusiveness
The United Church celebrates the full humanity of all people regardless of age, race, class, gender, orientation, or physical ability.
Multi-faith Relations
The United Church views the religious practice of all people of goodwill with respect and gratitude. We believe the Spirit of God is at work in many different faith communities.
UNITED CHURCH LINKS
WonderCafe
Canada-wide discussion forum on faith and social questions.
Affirm United
LGBTQ2S and Friends Community of the United Church
Music United
United Church Musicians