Outreach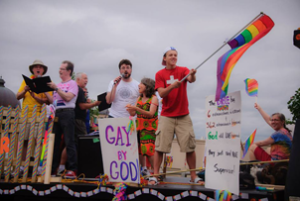 SUNDAY FREE BREAKFAST
St. Matthew's congregation has been serving a free breakfast on Sunday mornings (8-9:30am) since the early 1990s to all who are in need, including those who are homeless, transient, living sheltered, or struggling to get by. Five breakfast teams operate in rotation and include both congregation members and friends.
Teams are often looking for new volunteers who are interested in serving the wider community in this way. If you are interested in joining a Breakfast Team or in the program generally, please email the minister. (stmatts.betsy@ns.sympatico.ca)
---
HALIFAX CIRCUS CIRCLE
Along with a regular program of lessons and skill development, Halifax Circus also offers a Thursday afternoon youth drop-in program called Circus Circle that supports youth at risk by introducing them to the artistry and physical challenge of circus skills. Director Mike Hirschbach oversees this program, which has made connections with Phoenix Shelter for Youth and Mental Health Services at the IWK Hospital for Children. St. Matthew's congregation supports this program with in-kind provision of infrastructure and inclusion in congregational life and events.
---
OUT OF THE COLD EMERGENCY WINTER SHELTER
Our Shelter operates during the winter months -- November to April, seven nights a week, 8:30pm to 8:30am – and provides shelter and hot meals to approximately 15-20 guests. Ours is a so-called Shelter of Last Resort, meant to ensure that those who can't stay at other city shelters because of overcrowding or impairment can still find a warm bed.
Shelter staff coordinate a large team of volunteers, as well as donations of sandwiches and hot meals. St. Matthew's congregation looks after sandwiches and meals at least one night per week, with other donations received for other nights.
St. Matthew's supports the Shelter as a partnership ministry of the congregation, liaising with the Shelter Board, and providing infrastructure, space, and administrative and custodial staffing.
If you are interested in being a volunteer or making a donation of food, personal hygiene products, clothing, or otherwise, please visit the Out of the Cold Website for details.
---
In addition to the above, the congregation also supports (financially, with volunteer labour, and in kind) the work of many agencies and groups in the city whose mandate is the care and support of children, youth, men, and women in crisis. We are profoundly grateful for the work of these organizations. You may wish to become involved!
Brunswick Street United Church Direct Care and Advocacy for the Homeless and Poor
Phoenix House and Phoenix Shelter for Youth Support for Homeless Youth
Adsum House/Bryony House Women's Shelters — Donations of clothing and toiletries are always appreciated, along with necessities for babies, school supplies for children, and especially warm winter clothing and footwear.
IWK Health Sciences Centre Hospital for Women and Children — Donations of blankets for newborns and infants in crisis.
Dress For Success Halifax — Donations of business and professional wear for women.
Feed Nova Scotia — Donations of food, especially canned goods and other non-perishables, are collected by the congregation every Sunday morning in a grocery cart at the main door of the sanctuary.